Product Name: maritime police uhmwpe bullet proof vest/jacket
Model NO.: DC2-3
Origin: China
Brand Name: qianglun
Product Details: maritime police uhmwpe bullet proof vest/jacket
uhmwpe bullet proof vest:Light weight, soft.
Standard:USA Standard NIJ 0101.06 IIIA
ISO,GJB standard
Material:PE ,ceramic
maritime police uhmwpe bullet proof vest/jacket
1 Technical Specifications for bulletproof vest
1.1. With two armored plates.
1.2. Damage-resistant upper material
1.3. Quick replaceable armored plates without the need to dismantle the Body Armor.
1.4. complete protection style
1.5. Used in temperature ranging from -40C to +55C, as well as in high humidity conditions
(up to 70%).

2. Each offer contain detail description for body armor in line with requirements of the terms of references

3. Purpose.
3.1. Body Armor provide effective bulletproof protection from the following types of ammunition and :
- Type DC2-3 ;
-Nominal bullet mass not less them147 g;
- Bullet velocities not lower than847 m/sec.

4. Specifications for plate:
4.1. Plate
- Level IV.
- Size 250x300 mm.
- The combination of ceramic plate and pe plate

5. Level of protection.
5.1. Ballistic protection level IV (level IV – a soft armor).
5.2. Standard of Compliance NIJ STD-0101.04 (National Institute of Justice of USA).
Bulletproof vest is widely used in naval officers, maritime police, customs, police, armed police and frontier fighters and other special population of security protection.
product features:
1.Protective performance meets U.S. NIJ IIIA -level standard and Ministry of GA141-2001 police grade class standard of level II and III.
2.Floating body armor plus 250*300mm light bulletproof chest plate (1.6kg/pc),can proof AK47 assault rifle with 7.62mm*39mm rifle bullets and M16 rifle,M14 with 7.62*51 mm NATO bullets.
3.Floating performance can apply to 70kg and guarantee that float in the water.
4.Accessories: traffic light and emergency life-saving calling device.
Material desigh:
1.Bulletproof vest panel and bulletproof chest plate adopt UHMWPE UD fabric ,it is permanent waterproof,various chemicals,corrosion,non-toxic and tasteless,high-inpact toughness ,and the teture is lighter than water (a density of0.98),which is the world leader in high performance bulletproof materials.
2.Floating body armor outer and inner carriers are woven with high-strengh polyester fiber.It is waterproof,fire-retardant surface treatment,and flexible colorfast fabric.
3.Floating parts of bullteproof vests are high molecular polyurethane foam processing,which is a new type of foam featuring in high strength,good floating performance,and non-poisoned non-peculiar smell.
We manufacture the bullet proof vest according to customer's design, the color of outshell fabric can be printed as original sample.
Any question regarding bullet proof products, please feel free to let me know, we will give you prompt reply.
Bullet proof vest:
Bullet proof vest used UD fabric as its raw material, which is produced by high performance PE fiber. A variety of bullet-proof vests are produced according to different protection level requirements. Bulletproof jacket of this kind is the latest high-tech product in the word with many outstanding performances like soft feeling, comfortable wearing,convenient movement, lightweight, good bulletproof performance, UVresistance, sunlight resistance, waterproof, low temperature resistance.
The specification and protection level of bulletproof jacket
| | | | |
| --- | --- | --- | --- |
| Code | Name | Protection area | Protection level |
| DC2-1 | vest | 0.28 | GA141-2001 Police Standard Level II |
| DC2-2 | vest | 0.28 | GA141-2001 Police Standard Level III |
| DC2-3 | vest | 0.32 | US NIJ standard level 3A |
| DC2-4 | Complete protection | 0.50 | US NIJ standard level 3A |
| DC2-5 | Complete protection with groin | 0.60 | US NIJ standard level 3A |
DC2-2
DC2-3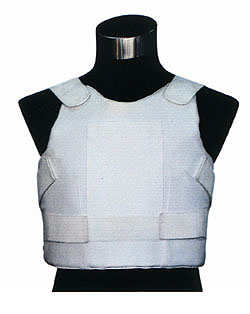 DC2-4
DC2-5
maritime police bullet proof vest/jacket